Description
EYE LENS

DIGITAL – STANDARD PROGRESSIVE ALPHA Ss

Progressive Lenses
Lenses With A Latest Technology For A Sharp And Comfortable Vision

In people who are maturing (in their 40s or older), vision problems might occur sooner or later in life, resulting in reduced eye power and deteriorated vision health. And, this is where progressive lenses come like a blessing because they are considered as the most natural way for achieving a clear vision. They are multifocal lenses that are designed to offer you with a seamless progression of varied lens powers for all viewing distances.

One Lens And Three Invisible Zones

Made using state-of-the-art optical technology, progressive lenses provide greater comfort level to the wearer helping him maintain clear vision at all distances- near, far and intermediate.

Since, progressive lenses encompass a graduated range of vision varying from a distant zone to closer objects including intermediate zone, it creates annoying distortions in the lens periphery. However, with the advancement in technology, the design and production methods (computerized modelling and digital freeform manufacture) of these lenses have evolved over the years. And, today, you will find these progressive lenses with precise curves on surface of the lens and reduced peripheral distortion. This offers you with a better, clear and seamless vision.

Consult an eye care professional who will do his analysis about the vision health of your eyes to suggest you with the right types of progressive lenses.

There are a number of best progressive lenses brands in India like Pellucid exclusively available on Coolwinks. The progressive lenses cost in India starts from 2199 INR for Pellucid standard lenses and 2690 INR for superior Pellucid lenses. The progressive lens price usually differs from brand and to brand and for the kind of quality offered.

Progressive lenses provide a graduated range of vision varying from a distant zone to closer objects including intermediate zone, allowing you to see comfortably. Progressive lenses are ideal for those suffering from presbyopia in which they struggle reading up close which leads to eyestrain and headache.

To keep your progressive lenses away from scratches and dirt and increase their lifespan, you need to take a great care of them. Always wash your hands thoroughly before cleaning your eyeglasses. Use lukewarm water to wash away any dirt or dust particles. Avoid hot water. Apply a small amount of dishwashing liquid diluted with water on your glasses lenses. Gently rub with hands and then rinse to remove traces of soap. Dry your glasses using a soft cloth. You can also use spray eyeglasses cleaners for cleaning.

While bifocal lenses provide vision only for near and far distances, progressive lenses are more advanced as they provide seamless vision for three distances- near, intermediate and far.

Progressive lenses are worth investing in. Also, they are ideal for people having presbyopia. They allow a person to view far, near and intermediate objects very conveniently. Also, according to progressive lenses review shared by many users, the problem of image jump is eliminated because the transition between the lens powers is smooth and seamless.

Pellucid Standard Lenses- starting INR 2199

Recommended for 0 to +/-2 power range
Complimentary Anti scratch coating
Free Photochromic Coating Pellucid Superior Lenses- starting INR 2690
Recommended for 0 to +/-10 power range
Complimentary Anti scratch coating
Anti-reflective coating
100% UV protection
ThinnestProgressive lenses are a bit expensive as they are designed to correct all areas of vision. And, because of an invisible demarcation on lenses, they offer clear and seamless vision. At there are two kinds of progressive lenses. Pellucid standard lenses ranging at INR 2199 and Pellucid superior lenses at INR 2690.

Premium progressive lenses are often referred to as "free-form design" or "wave-front technology." Premium progressive lenses provide a much wider, distortion-free reading area. Vision is often clearer, as these lenses are usually 100 percent digitally surfaced or ground. These lenses are computer designed with small changes to allow both eye to work together. They often incorporate the fact that you have a dominant eye. This customizes the prescription for you as well as the frame you desire. Instead of compacting a lens design, as with a short corridor progressive, the lens is totally customized so that all ranges of power fit nicely into any frame. As expected, these lenses are more expensive than standard or entry level progressive lenses. These lenses range from $600-800.

Benefits – Premium progressive lenses are custom designs to fit both your chosen eyeglass frame, your prescription and your own eye anatomy. They are generally much easier to adapt to and have much less "swim," effect or feeling dizzy with head movements. Sometimes, these lenses feel like not wearing a multifocal lens at all.
Disadvantages – Premium progressive lenses tend to cost more than regular progressive lenses. Even with vision plans, the co-pays tend to be much higher. These lenses must be purchased through a doctor's office that has the addition technology to take digital measurements required to manufacture these lenses.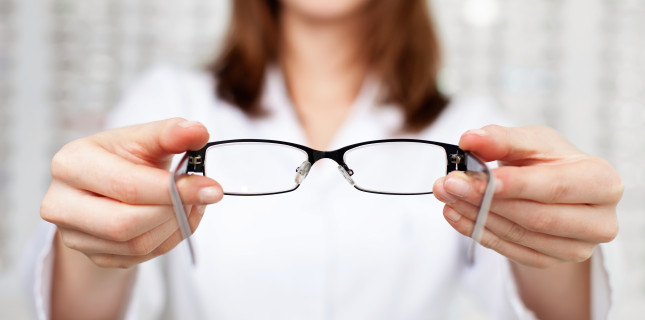 The Advantages of Premium Progressive Lenses
Premium progressive lenses are very convenient for those who need varying levels of assistance in seeing both near and far. Premium progressive lenses can be produced to compensate for an individual's head and eye movements. They can be designed with the visual ergonomics of the particular wearer in mind, and they offer the ultimate in convenience to eyeglass wearers. Naturally, this type of eyeglass lens is higher in price. However, it is 100% customizable and allows for clear, distortion-free vision. Premium progressive lenses feature new technologies in eyeglass design, and they offer users many advantages.
The advantages of premium progressive lenses include increased lens power and avoidance of the typical discontinuities or image jumps caused by typical bifocals or trifocals. Progressive lenses don't have the visible segments that make it clear to onlookers that the eyeglass wearer is in fact using bifocals. As many people associate bifocals with old age, progressive lenses tend to lend a more youthful feel to bifocal or trifocal eyeglasses. Progressive lenses take advantage of the optimization principle to provide progressively increasing power between the low power region and high power region of the lens. Optical aberrations are minimized in the design and functioning of premium progressive lenses.
Although premium progressive lenses require a larger investment from the eyeglass wearer, they may come with extended warranties that ensure that they will provide visual assistance well into the future. While offering their own unique advantages, they also feature many of the options of traditional lenses, such as a variety of different anti-scratch or anti-reflective coatings that can improve their durability and the quality of the wearer's vision. Premium progressive lenses are available in many custom designs that satisfy the needs and desires of any patient. Young and old patients alike can rely on premium progressive lenses for the best possible vision.